AmeriFirst Home Mortgage in Our Community
AmeriFirst Home Mortgage is a "community mortgage lender." This means we live and work in our community. Here you will find examples of how we get involved. If you see us at an event, please come say hi!
The Hausmann Story | March of Dimes
Mitch and Brittany Hausmann were looking forward to starting their family. With Brittany's pregnancy moving along as normal until about 28 weeks in she was diagnosed with gestational diabetes. One week later she started to have server abdominal pain, and was told to go to the hospital by her doctor's office. There she was diagnosed with server preeclampsia.
Brittany's only thought as doctors told her that she had to deliver her baby nine weeks early was "Will I lose my baby?"
After the emergency C-section Mason Hausmann was rushed the NICU . However, it was not over for Brittany, she was also diagnosed with HELLP syndrome. So now Mitch has two things to worry about, His new born son that was born nine weeks early and his wife.
AmeriFirst Home Mortgage is a proud sponsor of the Kalamazoo Signature Chefs Auction and was honored to produce the video.
Bowling for Kids Sake with Big Brothers Big Sisters Kalamazoo
From AmeriFirst's organizer Jay Eakins: "I wanted to take the time to thank all the people that volunteered their time last Saturday to participate in the Big Brother's Big Sister's Bowl For Kids' Sake.
We have a great turnout and AmeriFirst was well represented.
With 30 bowlers and several more cheering us on. We were a force to be reckoned with inside the lanes!
To all of you that collected money and/or donated money, we can't thank you enough.
The current tally raised by the AmeriFirst bowlers is $4,396!!! That is an unbelievable number! And it is still growing.
And with the $2000 Sponsor fee paid by AmeriFirst; it means we contributed $6,396 to this event and it all goes to help with the local chapter of Big Brothers/Big Sisters.
Congratulations AmeriFirst for a job well done, for an organization that is well worth doing it for!
See you next year!"
Click here to share this story!
Our Neighbors Need Our Help: The Flint Water Crisis
As many of you probably know, Flint, Michigan is experiencing a terrible situation right now. The drinking water in Flint, which used to be piped in from Detroit at a great expense, was switched to a local source and treated by a local water treatment facility. The water treatment didn't work correctly, and caused the water to become tainted and caustic to the pipes in many homes. All of this lead to a dangerous situation: high lead in the drinking water.
Many organizations and individuals are now sending bottled water to the residents of Flint. Money is being collected as well.
As a company that believes in making a meaningful difference in the life of others, AmeriFirst Home Mortgage has pledged $25,000 to the "Moving Michigan Forward" fund to help fix the underlying problems in the Flint infrastructure. This goes beyond sending bottles of water, this will help fix the actual problem for our neighbors.
Now we're helping the rest of the AmeriFirst Home mortgage team raise even more money to help our neighbors. In fact, we'd love to match (or more!) the donation from AmeriFirst!
Our neighbors are in trouble and need our help. We believe this as Michiganders, as Americans and as fellow humans.
Catalyst University 2016 - Leadership Conference in Kalamazoo
AmeriFirst Home Mortgage proudly sponsors this leadership conference right in our backyard. Catalyst Universtiy with Southwest Michigan First.
March of Dimes - Kalamazoo Signature Chefs Auction 2015
Share the Warmth Coat & Winter Wear Drive in Kalamazoo
For the second year in a row, the AmeriFirst Home Mortgage Home Office in Kalamazoo will serve as a drop-off location for the Salvation Army's Share the Warmth campaign. Drop off your new or gently-used winter coats, gloves, hats, scarves and more at our office at:
950 Trade Centre Way, Suite 400
Kalamazoo, MI 49002
Signature Chefs Auction Kalamazoo 2014
AmeriFirst is proud to continue to support the March of Dimes "Signature Chefs Auction" for the Kalamazoo division.
Share the Warmth
We're supporting the Salvation Army "Share the Warmth" campaign in Kalamazoo. You can find a drop off point near you as well! Help us keep our community warm this winter.
Sock Drive at AmeriFirst!
YouTube playlist "Our Community"
This playlist features videos we create to help showcase our community and local non-profits we help support.
Supporting Veterans Through Honor Flight
An Honor Flight is an all-expense paid flight for World War II Verterans to visit the WWII memorial in Washington, D.C. This national organization works with local hubs full of volunteers and running on donations to help local Vets make the trip. Honor Flight: The Movie is a documentary that follows Wisconsin-based Stars and Stripes Honor Flight during one of these flights. AmeriFirst Home Mortgage proudly partnered with KVets, a Kellogg's employee group, to sponsor the Michigan premier of Honor Flight: The Movie, which in turn fueled the launch of Talons Out Honor Flight - the Southwest Michigan hub.
Kiss Me Kate at WMU
AmeriFirst Home Mortgage supports Western Michigan University "The University Theatre" production of Kiss Me Kate. President and co-dounder of AmeriFirst Mark A. Jones says, "I enjoyed the Kiss Me Kate performance by The University Theatre at the President's Performance. What a talented group!"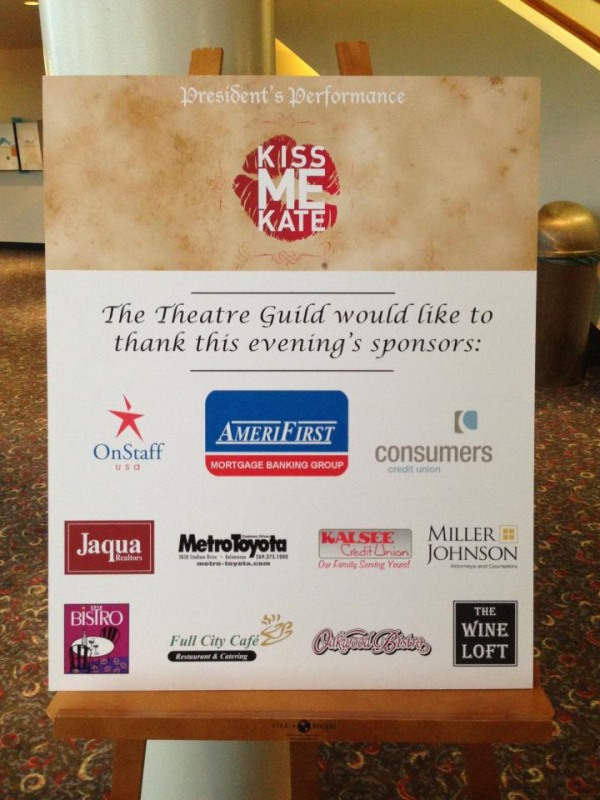 2013 Bowl for Kids Sake for Big Brothers Big Sisters
March of Dimes Signature Chefs Auction Kalamazoo 2012
As a sponsor once again for this wonderful event, AmeriFirst Home Mortgage produced this promotional video for the Signature Chefs Auction at the Radisson in Kalamazoo.
2012 Bowl for Kids' Sake fundraiser for Big Brothers Big Sisters
As a sponsor for the Kalamazoo Bowl for Kids' Sake event with GKAR, we produced a fun promotional video.
March of Dimes: Signature Chefs Auction 2011
Here's a teaser video we produced for the March of Dimes event in Kalamazoo "Signature Chefs Auction."
We're in Your Community
AmeriFirst Home Mortgage branches like Infinity Mortgage Associates in Coldwater, Michigan are active in the community, and see the rewards like "Branch County Board of Realtors Affiliate of the Year."
Our branch in Middletown, Ohio helped its community with a housing market summit presentation on home improvement loans.
AmeriFirst Home Mortgage believes in community involvement. Thank you to our partners and our friends in helping to make our local neighborhoods better places!